Tidal River Management
Tidal River Management in Bangladesh
A timeline of what led to the introduction of Tidal River Management in Bangladesh could look like this.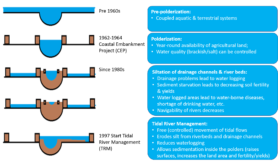 Prof. dr. Dilip Datta (Khulna University) and his research team created a documentary that explains the beauty and complexities of tidal river management (TRM) in southwest Bangladesh, that can be accessed here.
The Institute of Water Modelling (IWM) prepared a video in Bangla about tidal river management. It can be accessed here.